Before I continue, I want to say...
Happy 17th Birthday to me! :D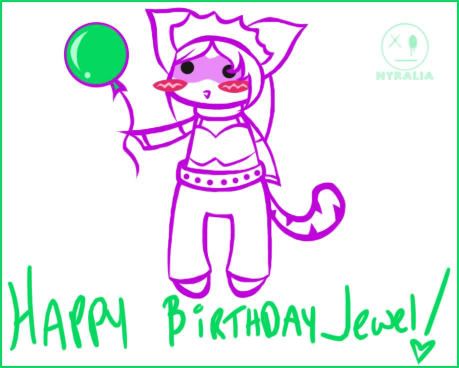 (My avatar on Gaiaonline. I used to be addicted to the site! Was an art addict too! But I have grown...)
Yaaaayyy! (I'm such a dork!) Haha, I will try not to care about my waistline and eat to my heart content today! o(*0*)o <-Knows she'll feel bad afterwards!
Originally, I was planning to host a giveaway in celebration of my birthday. But unfortunately, I really do not have the funds for it! (Money is money, no matter how much it is! Sucks with no job too...) So I apologize that there will be no giveaway this year for my birthday. Maybe I will try for Christmas? (But then I have to start funding for my friends' presents! Ack! Money, money, money!)
Anyway, I am starting this new little thing I came up with myself called Q4U (AKA: Question for you :] ) Intentionally, I wanted to use it to improve my blog because sometimes people just don't bother with surveys. But I guess I will use it for any other book/manga related questions (or something completely off-topic!). It's not like a regular meme. Just a question I want to ask others when I am dying for an answer from the majority about whatever that is bothering me. (Or maybe sometimes use it as a filler when my reviews get scarce?)
Therefore, my Q4Us will be on random days!
Feel free to do your own Q4U too! I'm sure you want to ask your readers something!
You can make it a regular meme for your blog if you'd like. :)
Anyway, this question has been bothering me for awhile and I really would like to hear you amazing readers' opinions on it:
What length do you prefer the reviews you read to be? And what should be in the review?
I tend to do a medium-sized review for whatever I've read or watched with my own personalized summary in the beginning. I would then try to talk about plot, characters, writing, and art (if applicable) if I could. Sometimes it may be short because I do not have a lot of opinion for it. While other times it can be long when I have a lot of things I want to say. I am curious on what you are inclined to read more. Something that is quick so you can continue on with your life or do you prefer something with great length with a lot of elaborations? Let me know in the comments below!