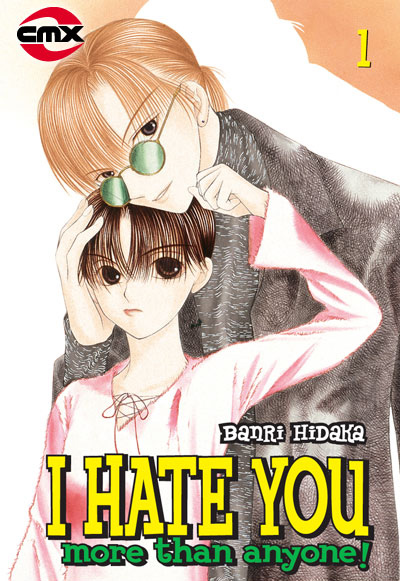 Title:
I Hate You More Than Anyone!
Series is:
Completed with 13 volumes
Kazuha Akiyoshi has a big crush on Mizushima, a teacher at her baby brother's daycare. He is kind and considerate and Kazuha can't help but like him so much. Then there is Sugimoto, a hairdresser who seems to be obsessed with her. Except due to his cheeky behaviour, she greatly dislikes him! What is a girl to do when a guy won't just leave her alone??
I have read Banri Hidaka's later series,
V.B. Rose
, one that I did not highly favour. I Hate You More Than Anyone! is slightly better, though it is a series I would not start collecting.
Kazuha, like most shojo protagonists, has a love interest. As you could probably tell, female characters' first love interest in the beginning of a series usually turn out to be some sort of fluke. Kazuha is the type of character where she keeps a strong face in front of others but when it comes to her personal feelings, she breaks apart. The first volume focuses a lot on her and Sugimoto and how their relationship grows over time, which is cute.
There is one part that I wished didn't happen and that was when Sugimoto cut Kazuha's hair. It became really short and it just irked me how she looked like a male character with a girl's face. Except, this part of the story did contribute overall to her relationship with Sugimoto.
I don't mind the art, but what bothers me the most is the hairstyles Hidaka used on her characters at the time. From the way they were drawn, some characters' hair seemed very thin and it is one of my manga pet peeves. What is even worse is the Sugimoto ties back his hair, making it look like he barely has any hair at all! Other than that, I do love how clean Hidaka's art is.
I Hate You More Than Anyone! is somewhat a slow paced manga, which makes you want to put it down very fast. However if you want some sort of simple romance, you might like this series.

Review copy provided by
CMX
.