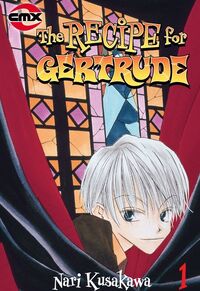 Title:
The Recipe of Gertrude
Mangaka:
Nari Kusakawa
Age Group:
Youth
Series is:
Completed with 5 volumes
Volume(s) Reviewing:
1-2
My Rating:
3/5
Creating a demon is not so hard. All you need is a recipe!
Gertrude is a demon who is created by parts of other demons. He wants to find the recipe that had created him long ago. He unexpectedly encounters a human girl named Sahara who decides to help him.
Along the way, they befriend a couple of other demons that lost a body part into creating Gertrude and discover a location they would never expect to find the recipe.
I thought the story idea is interesting, different from most demon stories I've seen in manga. However, I found the plot to be a bit lax; although there is some action and quite a bit had happened within the first two volumes. Maybe it is just the mangaka's style but I found it "fluffy". I really can't find another word to describe it! I assume it is so because the series is for all ages, which is why the action is not intense.
I have to say I like the two demons that hangs with Sahara and Gertrude, Puppen and Mariotte. I think their character designs are very cute because they look more like giant plushies instead of demons. Gertrude and Sahara are alright. I don't have much to say about them except I don't find them standing out at all, considering them as the main characters.
There is a bonus story at the end of volume two called The Tryst. I found it much more memorable rather than the main story of The Recipe for Gertrude because its very sad and sweet.
I recommend The Recipe of Gertrude to the younger audience. I didn't enjoy it so much but my younger sister who is ten really likes it. I think it will appeal to youth much more rather than the older audience.
Review copy of vol. 2 provided by
CMX
.