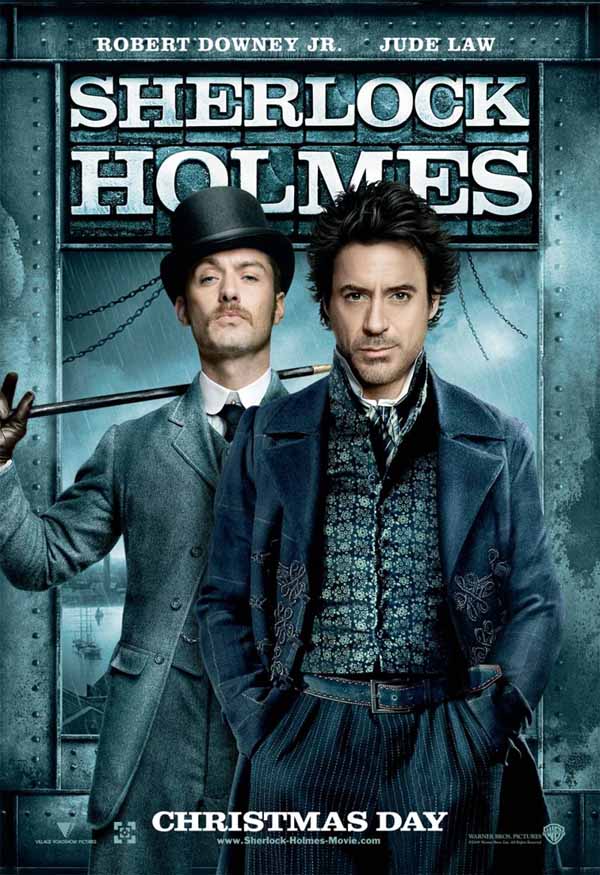 Title:
Sherlock Holmes
Type:
Movie
Age Group:
Teens +
Release Year:
2009
My Rating:
4.5/5
Sherlock Holmes. Everyone has heard of him at least once during their lifetime. Created by Arthur Conan Doyle, this super sleuth is one of the legendary fictional characters of all times. Now, you can watch Holmes (Robert Downey Jr.) along with his partner Watson (Jude Law) in live action.
Holmes and Watson recently captured Lord Blackwood (Mark Strong), a dark arts magician who has been causing trouble in London. Shortly after he is hanged and pronounced dead, Holmes is bored out of his mind in his cluttered apartment. He is dying for another grand mystery to solve. His wish is granted when Blackwood is witnessed to be alive when he walked out of his grave. If Holmes does not get to the bottom of this soon, England will be in trouble.
Originally, I wanted to watch Avatar 3D IMAX. Except when I arrived, it was completely sold out for the entire day. I wanted to watch Sherlock Holmes too but I was mad to have missed out on Avatar. However, my annoyance dissolved quite shortly after Sherlock Holmes started.
Thrown back into the late 19th century, the audience will be awed by the Victorian atmosphere and dressing style. Although Sherlock Holmes has a chock full of intense action, it still kept the English elegance and culture intact.
I absolutely love the characters! Holmes, Watson, and Adler (Rachel McAdams) are all amazing with their distinct personalities and quirks. I am happy that Rachel McAdams is this movie (Canadian pride!). Compared to her roles in Mean Girls and Red Eye, she executed the alluring Irene Adler extremely well. I adore Holmes and Adler together.
There were times where I found Holmes to be talking too quickly in the movie and I was unable to catch his words. This didn't happen too often but whenever it did, I wasn't happy. I loved pretty much everything up until the very end. Just the last five minutes before the credits, something happened that confused me. The movie made room for a sequel and I fear it may not compare up to the first. However, we'll see how it goes when it comes out. For now, I recommend Sherlock Holmes as a pick for the theatres!