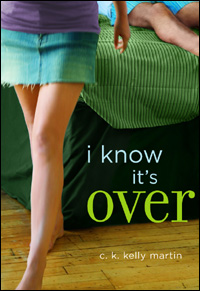 Title:
I Know It's Over
Author:
C.K. Kelly Martin
Age Group:
Older Teens
# of Pages:
244
My Rating:
5/5
Nick Severson has another year and a half to go before he graduates. He is in the hockey team and is living his life as a teenager. All goes wrong when his ex-girlfriend comes back... to tell him that she is pregnant with his child.
He still has feelings for Sasha, who broke it off with him because she wanted to focus in school and her future. Now with her pregnant, his whole world falls apart as he tries to sort out his emotions and problems. What will happen to the both of them?
The first half of the book starts off with how Nick met Sasha. Eventually it moves back to the present as Nick tries to cope with the news from his ex. It is a touching story and I love how realistic the characters are. Sometimes in books, characters tend to be a bit one-dimensional. Not only can you relate to Nick and the others, but they also have depth and their character grows over time. Even the side characters does their part very well to affect Nick's actions. Not to mention, the setting is in Ontario! (Canadian pride, yo). But I have to say when I was reading it halfway, it seemed like it would never end! I was about a hundred pages away from completing it before I wanted everything to conclude already. But I am pretty satisfied with the ending and I wonder what will happen to everyone in the future.
I'm sure anyone who loves realistic romance will enjoy this story about love, heartbreaking moments, and the struggle of understanding.
Won copy from
All My Little Words...C.K. Blogs
.