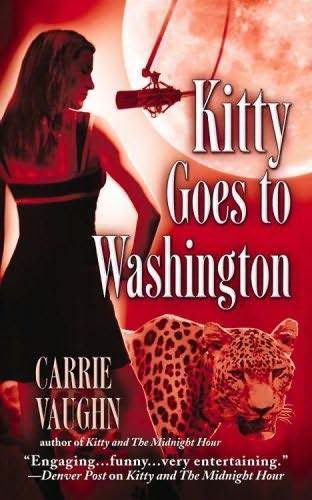 Title:
Kitty Goes to Washington
Author:
Carrie Vaughn
Age Group:
Adults
# of Pages:
342
My Rating:
4/5
Kitty Norville is a werewolf who hosts her own radio show, The Midnight Hour. She likes to voice her opinions but prefers to keep her face out of the public eye. Unforeseen, she is asked to testify on behalf of the supernaturals at a Senate hearing.
So she travels to Washington to meet up with her lawyer, Ben. During in traffic, she is pulled aside and discovers the vampire mistress of the city, Alette, welcomes her and wants to keep her safe from potential dangers. Weird out by her hospitality, Kitty has no choice but to stay under her care. Meanwhile, she is being watched over by the annoying vampire, Leo, and a couple of Men in Black figures who follows Alette loyally.
At a gallery show she runs into Luis, an incredibly sexy Brazilian were-jaguar. The two are attracted to each other instantly. But when there are good times, there are bad times too. For the hearing, Senator Duke tries to reveal that she is an evil being because she is not human. Kitty gets tangled up in a lot of trouble during her stay at Washington, which includes an evil fairy and unwanted broadcasting. Everyone is in it for their own gain.
I have received the second volume to review by accident instead of the first. Luckily, I did not need to know what happened before to understand this one. I quickly became accustomed to the novel by the end of the first chapter.
Instead of a specific problem, Kitty Goes to Washington is a series of events that interact with each other leading up to the climax. I liked Kitty's strong personality and her attitude towards the situations she was in, making her a great female werewolf protagonist.
This paranormal story is different from the usual plot line of good versus evil. It deals with what it is like for humans to know the existence of different species and how it is being dealt with by the government. It's definitely not over dramatic with the plot but surely a fun read. I wished Kitty's and Luis's relationship was expanded on. He wasn't there most of the time and didn't serve much of a purpose except for being the hot guy there when needed. Overall, Kitty Goes to Washington is definitely a recommendation for supernatural lovers. I am looking forward to the rest of the series and hopeful that it gets better each time.
Review copy provided by Hachette Book Group.