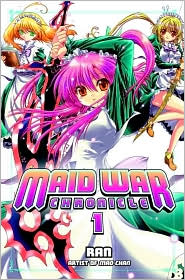 Title:
Maid War Chronicle
Mangaka:
RAN
Age Group:
Older Teens
# of Pages:
Approx. 200
# of Volumes:
4
My Rating:
4/5
The kingdom of Arbansbool is suddenly attacked by its enemies, so the perverted prince escapes from his palace with his six beautiful maids! They go to the Shrine of Martin because legend has it that is where the kingdom's powers lie.
After they dodge a booby-trap in the shrine, the gang find themselves in a room with an elaborate table. There are different stones stuck to it, each with a different marking. The prince suddenly dubs all of his maids to be his knights. It is a foolish idea, considering that all they know is how to serve tea. But when one of them touches the stone, a weapon appears in her hands. One by one, they all get their own weapon. Maid Cacao does not like the fact that she has to fight like a warrior... Until the monster guardian of the holy weapons reveals himself to test if the maids are worthy enough to wield them! Cacao immediately touches one of the stones and gets herself a magical sword. She destroys the guardian in victory!
Now the maids and their lecherous master must find their allies before the enemies get them. Adventures with cute girls and magic, this manga is filled with humour and fantasy action!
For an adventure manga, Maid War Chronicle has lots of funny scenes and characters! I love the maid Vanilla because she is so adorable with her clumsiness and innocence! I usually don't like ditzy characters but RAN made his so lovable. Everyone in the story made it more enjoyable with their personality mixed into the bunch! Their journey is also well paced and blends from one location to the next. I am wondering if there will be any romance in this series because there is no hint on it yet. Though I am most curious how it ends!
Maid War Chronicle is a great summer read for those who wants something light and new! I am looking forward to the second volume!
Review copy provided by
Del Rey
.